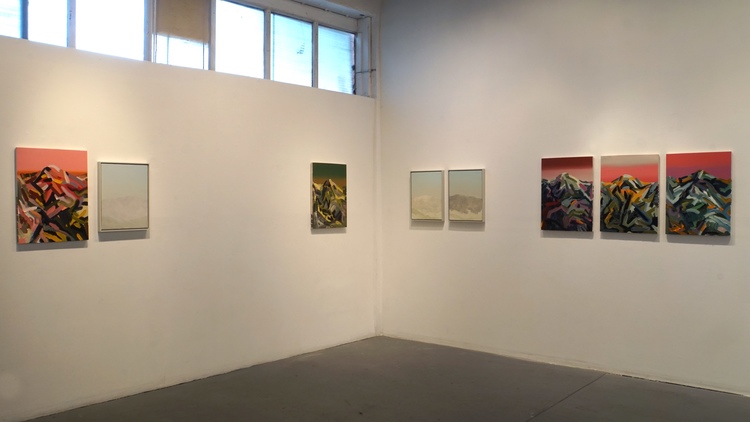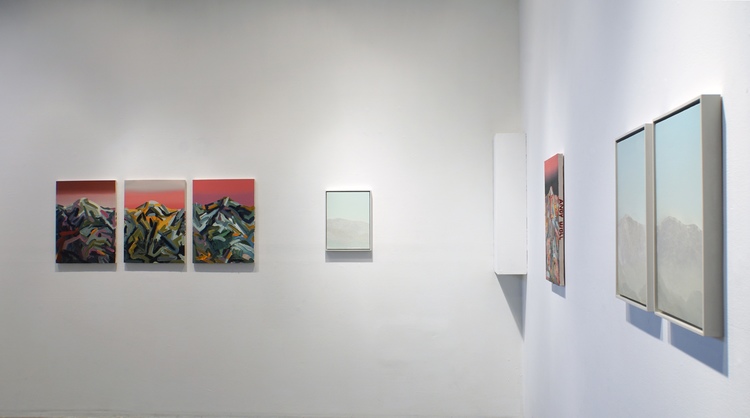 JAKE LONGSTRETH & ANDY WOLL
Pairs
January 10- February 7, 2016
opening: Sunday, January 10, 3-6 PM
Monte Vista Projects presents a two person show entitled Pairs. Jake Longstreth and Andy Woll both create Southern California-inspired landscape paintings representationally free from human existence. With both artists adopting a vertical format, (an unusual strategy for landscape painting), while exploring nearly-identical subject matter, we are allowed to participate in a compare-and-contrast of the two artists strategies. Longstreth's muted palette and compressed tonal range evoke a harsh and intense luminosity -- there is an understated realism at work here that slowly reveals the inherently abstract nature of its construction upon closer inspection. Andy Woll's landscapes work in an opposite manner. Brash and confident, his flurry of brushstrokes and saturated palette read first as highly abstract, in a classic sense, and then are quick to reveal a sophisticated rendering of space and topography.
Pairs will allow us to look at the artists work together. There is a push-and-pull between the structural similarities in the two artist's work with how radically different the works end up looking and feeling from one another. Jake Longstreth depicts desolate, hot, dusty places that are concocted in the studio and based on a lifetime of sense memory. The work is simultaneously lush and brittle. Andy Woll has chosen Mount Wilson as his Haystacks as it were, to interrogate again and again, the endless possibilities of paint and hand depicting a single place. In Pairs, we examine artists working in similar modes towards a divergent end. Neither artist uses photographs as references in their pursuit -- these are studio paintings invented spontaneously -- Longstreth's naturalism depicts no place in particular while Woll's relative painterly abandon is always in service of depicting a specific, real peak.